Penn Relays


Since its inception in 1990, the St. Andrew Alumnae Association Washington, DC, Chapter has supported the St. Andrew High School for Girls teams competing in the Penn Relays. Held in April annually in Philadelphia, PA, this prestigious sporting event plays an important role in facilitating offers of US athletic scholarships to the most promising of our athletes. Jamaican athletes, and particularly those from St. Andrew High School, gain the exposure they need in this international meet and have built a reputation for excellence. This year we are supporting the team with housing, meals and transportation once they arrive in the US.

Kathleen Reckord Scholarship Fund
The Kathleen Reckord Scholarship Fund, named after a member of the Class of 1923, provides scholarships through the Association to needy students of our alma mater. Working with the Principal, Mrs. Sharon Reid, and the school's guidance counselors to identify potential recipients, students receive scholarships based on financial need and scholastic performance. The school's assistance in screening the candidates helps us to streamline the process and to increase the accountability of both the school and the students, based on the criteria set by our Association. The list of recommended students is sent to the Association for review and final selection. Our annual fundraisers and ad hoc contributions from members provide the funding to support this mission. It costs approximately US$1,000 to send a child to St. Andrew High School for Girls for one year. Scholarship funds include tuition, fees, books, transportation, lunch, and discretionary expenses.

SAHS Foundation
Established in September 2005 on the occasion of the school's 80th Anniversary, the St. Andrew High School Foundation seeks to continue the tradition of excellence and to equip students to be leaders in every sphere of life. The Foundation set a target of raising J$100 million over five years to:
Provide a high quality teaching and learning experience to every student
Acquire and maintain technologically advanced facilities
Recruit and retain competent staff who are trained in current trends in their relevant areas
The Foundation has two main sources for generating income:
The Endowment Fund focuses on maintaining funds in perpetuity for capital projects and other major programs undertaken by the school.
The Special Projects Fund supports short-term activities and structural improvement projects with the proceeds from donations and fundraising events.
Alumnae both at home and abroad provide their strength and support for the institution and the Foundation continues to depend on your support as we work to ensure that we pass on the rich legacy provided by St. Andrew High School for Girls. Visit our website at http://foundation.standrewhigh.edu.jm.

SAHS Museum
The SAHS Emrie James Museum is the first of its kind in Jamaica and is the repository of artifacts honoring the school's rich heritage and history. It tells our story in a meaningful way with exhibits, photographs, and memorabilia and will continue to record the school's evolving history for decades to come. The Museum is a meeting place for students, alumnae, and the community to come together to experience our history. Visit us at Link.

Local Community Organizations
A condition of the Association's bylaws is to promote programs that stimulate the intellectual interest of association members and of the local community on matters related to education and culture. To date we have supported the work of Every Girl Can, The Women Who Cares Ministries and Community Bridges, , located in the Washington, DC area.

Every Girl Can

The Every Girl Can™ Learning Institute, Inc. (EGCLI) was incorporated in Maryland, on March 10, 2015 and received non-profit status in September of that year. Based in Silver Spring, Maryland, USA, EGCLI is committed to enriching the lives of girls to soar and thrive. Our two-fold mission is to provide girls life skills enrichment programs that help ensure their success in school, career and community and; to give them experiences, exposure and tools that build confidence, a positive self-image, respect, trust and integrity in their everyday lives.

EGCLI made its public debut as the new sponsor of the Every Girl Can™ Conference (formerly the Every Girl Can™ "SMART Image" Conference under the management of KYMS Image International, LLC.). Themed, Girls Rising Through Leadership, the 8th annual conference for girls in 5th to 8th grade and women took place on Saturday, May 7, 2016 at Montgomery College, Health Sciences Center, Silver Spring/Takoma Park campus. The event was free for girls and supported in part by the generous donation of time and resources by Montgomery College, dedicated business and professional women as well as sponsors under the guidance of the EGCLI Board of Directors.

EGCLI founder and president, Yasmin Anderson-Smith, first created Every Girl Can™ as an after-school enrichment program at Takoma Park Middle School (TPMS) in 2007 during her first term there as PTA co-president. http://bit.ly/1UNJArq Yasmin responded to the need for a new after-school program for girls at TPMS with the words, "I can do it." In 2008, Yasmin launched the Every Girl Can™ "SMART Image" Conference (held at Riderwood in Silver Spring, Maryland) in order to include other professional women and reach even more girls. In 2009, 2010, 2011, 2013 and 2014, conferences were held at Bowie State University in collaboration with the Henry Wise Wellness Center. The 2015 conference, themed, Your Future is STEMtastic) was held at Montgomery College. Please watch the conference video here http://bit.ly/1JiKwOt and visit our Videos page to view more clips of past conferences. Read more...http://everygirlcan.org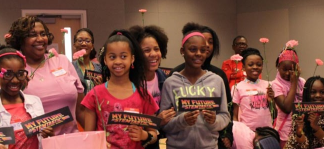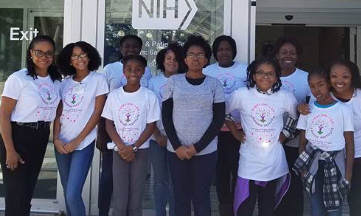 The Women Who Care Ministries (WWCM) is a faith-inspired, community outreach nonprofit organization. Its mission is to help hurting people to overcome; primarily through offering safety net services to low-income persons who need assistance with overcoming hunger, domestic violence, homelessness, and substance abuse. Through its outreach programs WWCM feeds the homeless, visits nursing homes and hospitals, combats childhood hunger and obesity, and provides the Helping Kids Eat Backpack Weekend Food Program. Each Friday students in Montgomery Country are able to get food to take home for the weekend as part of a program to fight childhood hunger. Hero Central on WUSA News Channel 9 featured Women Who Care Ministries. The Association supported this organization again in 2014. See more at:http://womenwhocareministries.org

Community Bridges is a local nonprofit community organization that provides multicultural empowerment and leadership programs for young diverse girls. Community Bridges serves low-income or immigrant youth and offers free programs that give the girls access to the experiences, opportunities, people, and ideas that will help them to become exceptional students, positive leaders, and healthy young women who achieve success.
Please visit their website at http://www.communitybridges-md.org for more information.
Link